The primary mission of Recovery and Backup Software (RBS) is data protection for EMC Centera, EMC ECS, and other object and cloud storage systems.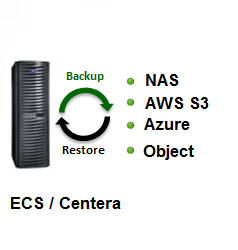 Although Centera and ECS utilize on array data protection techniques, irrecoverable data loss may still occur due to:
Recovery Backup Ssoftware was designed to solve the problems associated with backup and recovery operations for EMC Centera, EMC ECS and other object storage systems. RBS is delivered as software that runs on a Windows or Linux 64-bit server. RBS can back up the target to either integrated disk, NAS, iSCSI SAN, cloud or present itself as a target for tape applications.
Recovery Backup Software allows for a full, incremental or single file backup. If minimizing the Recovery Point Objective (RPO) is critical then RBS can run continuously providing near continuous data protection. Alternatively RBS can be scheduled to run on a cycle. RBS provides the following flexible recovery operations:
For simplicity and reliability, RBS accesses the source system via its native API or S3 interface and performs queries and read-only copy operations. RBS never puts any data at risk. For Centera/ECS raw Centera data including clipIDs, CDFs and BLOBS are copied out and written to a pre-defined target. Then the content is verified using Centera hashes to insure the operation was successful. For Object storage the process is the same, but the verification hash will be determined by what the object storage used
RBS tracks all data on the source even deleted data. Standard reports provide a deeper understanding of the source data and the RBS operations run. Customizable reports provide another layer of flexibility for operational and data analysis.