Longmont, CO April 4, 2023. DataTrust Solutions, a leading provider of file and object migration services, has announced three options for Hitachi Data Ingestor (HDI) customers who are facing End of Service Life (ESOL) on March 29, 2024.
Introduced in 2010, HDI is a gateway typically sold as a hardware appliance to provide SMB and NFS file services for the Hitachi Content Platform REST object storage. However, migrating data managed by any gateway presents many challenges: including the reliability of old hardware when stressed, small cache limits that impact user performance, file versions, retention, mixed mode and managing orphaned files and ACLs.
The three options offered by DataTrust Solutions are:
Option 1 is a hyper speed "in place" migration that only migrates the HDI namespaces and associated metadata while maintaining the data on the HCP. This is ideal for HDI customers with a large amount of data that will struggle to meet the ESOL date, customers needing access to versions, regulated data, or are unable to keep cutover windows open for days or weeks. In Stage 1, the namespace is ingested into our SAM Gateway, and it takes over for the HDI on a permanent basis. SAM is the big brother and the foundation code of the Hitachi Content Platform Gateway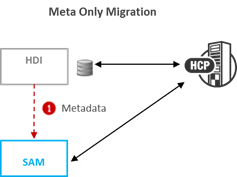 Option 2 allows customers to exit the HDI immediately to avoid the ESOL and then gradually exit HCP. The desired new storage option is added to the SAM configuration and a background process migrates the content from the HCP to NAS, SAN, S3 private object storage and public cloud options.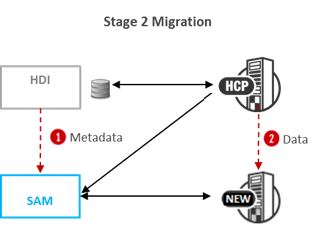 Option 3 enables the high speed migration of content directly from the HCP thus avoiding the HDI cache choke point. Target options include file systems and S3 compliant object or cloud storage. We pass the original metadata and settings where the target storage supports it and then offer customized options including writing to object headers or using extended attributes.
Each of these options provides substantial advantages over file system migration software that has to rehydrate all the data from the HCP to the HDI cache before being available to migrate. Tools like robocopy, limited to SMB files also lack the intelligence to manage off-line files with a limited cache thus lengthening the project and subjecting users to degraded experiences.
"At DataTrust Solutions, we understand the challenges that come with migrating data managed by any gateway," said CTO Andy Thomson. "We have a long history of providing optimized migration services for gateways including: DiskXtender, CUA, Rainfinity, CTA, StorFirst, Tivoli Storage Manager and now HDI."
Contact:
DataTrust Solutions
(720) 280-5459
Hitachi and Hitachi Vantara are trademarks of Hitachi Ltd